In the 1990's, I had severe Chronic Fatigue (my case began with a super strong antibiotic before surgery and a poor diet leading to a systemic overgrowth of candida albicans yeast dumping 120 toxins including formaldehyde and shutting down my system. At its worst, I got no energy from food/eating, was sick all the time, had massive brain fog/confusion, and a very unhealthy stoppage of all sweating). I'd tried numerous herbs and therapies, when in 2002 someone directed me toward a therapy called "Herbal Repair."

"Herbal Repair" foot soaks infuse the body with nutrients. Margaret did some kinesiology, then gave me list of things to buy including a bowling ball size bag of fresh garlic, white and black figs, olive oil, peppers, white willow powder, onions, carob powder, several essential oils, and more.
The theory behind Herbal Repair is that our feet contain the largest pores of the body, and hot water helps open these pores. Upon putting combinations of these herbs, figs, garlic, and oils into several foot soak pans, these nutrients are then absorbed directly into the bloodstream. A $50 magnet is placed at the adrenals and over other locations to draw the nutrients into key organs of the body.

Eating enough herbs and other nutrients to be absorbed via the stomach is nearly impossible. With herbal repair, massive doses of these nutrients become absorbed into the bloodstream immediately. The day after my first Herbal Repair session I experienced a huge, huge, huge benefit. I spent $150 on herbs, essential oils, an assessment and the therapist, but I felt great with much improvement.

Since I was too sick to work, I could afford this only once a month, so Margaret taught me how to do these foot soaks on myself. I bought bowls, magnets and more herbs, garlic, oils, etc. and began home treatments. I also found these two therapies, explained on my website: Essential Oil Tampons for women, and external application (slathering) of liquid Trace Minerals and oils like Cold-Pressed Walnut Oil, or Sesame Oil (kidneys) to be amazing for ongoing health.
And while Chronic Fatigue could be considered an Emergency since allopathic medicine has no treatment or cure, the therapy of HERBAL REPAIR is also very suited to actual Emergency situations...

LYMES....
Herbal Repair for EmergencIES...
My Emergency... in June 2009, a tick bit me. Within hours it had turned into a 8-inch diameter bulls-eye. By that evening, it was 14-inches in diameter. Of course I mentioned this to my traditional-type family who...freaked out.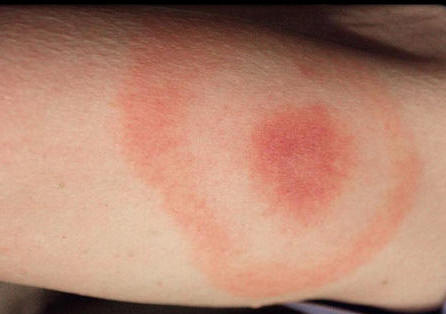 They told me it was Lyme's Disease, sent me links to pictures of Lymes "bullseye," and told me I had to go to the Emergency Room immediately to get antibiotics. Now antibiotics had caused me years of grief with chronic fatigue and here I was a long-time CHEO holistic health network President and board member, firmly proclaiming holistic treatments to all who listen…

So, I dug out my foot soak pans, magnets, "nasty sheet" and called a CHEO friend and foot soak buddy Carol Cooper http://oilsbycarol.tripod.com with an essential oil business and got $30 in key Essential Oils, started soaking Lentils (possible "Herbal Repair" for Lyme's)
and prepared for a massive two-bowl foot soak.

Within minutes of finishing the hour-long foot soak, the angry 15-inch red bulls-eye was a mere 6-inches and pale pink.

By that evening, all that remained was a small bump at the bite location.

Kinesiology testing of my handwriting showed low levels of Lyme's when previously it was off the charts. I felt great and am here 10 months later with no side effects or symptoms or after effects from Lymes.

And while I know this isn't for everyone, and doesn't work for everything and everyone, and of course doesn't replace the appropriate medical care of an integrative MD or other health practitioner, it is a very nice therapy to have available in one's toolbox, with H1N1 circulating, and antibiotic resistant strains of staph that doctors say they can't treat....



One "Herbal Repair" theory is this: If you find the "repair" for H1N1, and do numerous foots soaks with that essential oil, herb, etc. in advance – then it's like a natural defense against getting it (almost like a massively healthy vaccine, although I detest vaccines and hate to give it that name). Another theory is to wait until you've got the virus, then quickly do the "repair." Either way, it's nice to know that massive infusions of the "right" nutrients may just make a huge difference!
In Bill Henderson's "Beating Cancer Gently" monthly e-newsletter, he talks about the need to PREPARE in advance for deadly "superbugs" like MRSA, VRE, and the possible mutated Ukraine form of H1N1, saying...The best insurance is keeping your immune system strong, however with the many stresses of our modern world, it is hard to predict when we will get stressed enough to overcome whatever preventive measures we've taken -- so he recommends treatment strategies, prevention, and getting ready NOW.

Bill also says: "You can prevent the effects of these 'superbugs' by adopting healthy habits, but you literally can't wait until an emergency occurs to explore the treatments." Here's some of his information:
********************************************
Subject: Cancer-Fr*e*e Newsletter, Nov. 29th, 2009

www.Beating-Cancer-Gently.com/134nl.html
From: uhealcancer@gmail.com


********************************************
"How To Survive In A World Without Antibiotics"
********************************************


There are…"deadly 'superbugs' for which our medics have no answer. How did this happen? Well, for the last 60 years or so, since antibiotics were discovered, our doctors have been abusing them. They have been used for many treatments where they either did no good at all (virus colds and flu, for example) or where the consequences of no treatment were not serious (minor diarrhea and fever, for example). More recently, agribusiness has been treating healthy cattle and pigs with antibiotics. This 'non-therapeutic' use of antibiotics allows these animals to be raised in crowded and unsanitary conditions. The peer-reviewed Medical Clinics of North America publication ran an article last year that concluded that antibiotics in livestock feed were "a major component" in the rise of antibiotic resistance.
"As a result of the medical doctor and livestock treatment 'vectors,' bacteria have evolved, as they have for billions of years, to survive in the new environment. Drug resistant bacteria, like MRSA and VRE, are not just in hospitals (where 7% of patients currently acquire them) but in the community. They live with us. Last resort antibiotic drugs like vancomycin are not effective against them...

********************************************

Since many people get MRSA at the hospital, if I HAD to go to the hospital, I'd do the repair before going in. Another CHEO (www.4cheo.org) member, Carole Guest (cfutureg@comcast.net), provides the therapy of "Prepare for Surgery / Heal Faster." So before any surgery, I'd be in touch with Carole or some other Prepare for Surgery / Heal Faster Practitioner.

Dr. Charles Adams, MD (706-861-7377), an Integrative Physician in the Chattanooga area said at one of our holisitic meetings that his recommendation for pre-surgery is mega-dosing of Vitamin C via Chelation Therapy, and Hyperbaric Oxygen BEFORE going into the hospital and after coming out. I've been reading many doctors who say that mega-dosing Vitamin D3 will prevent flu and swine flu. Dr. Adams has also given talks on what women should do PRE-PREGNANCY, including massive detoxification, and the infusion of key nutrients.
Since I'm a 100% believer in smart, holistic pro-action, I highly recommend HERBAL REPAIR for Emergencies, like my contact with Lymes; before entering the hospital; if a highly contagious or dangerous virus was going around; or just for everyday vibrant health....

Thanks and Blessings To All,
Tami Freedman
CHEO Chattanooga President 2007, 2009
www.4cheo.org, TamiFreedman@aol.com